National-level Influencing
Equal Measures 2030 (EM2030) believes that better quality, easy-to-use data and evidence can drive change for girls and women globally and in the countries where we work; This belief drives our national influencing model.
To power advocacy efforts led by grassroots girls' and women's rights organisations we provide financial and technical support. Our sub-grants help advocates to collect and better use data – including the SDG Gender Index – on key gender equality issues and to influence laws, policies, and budget allocations. To date EM2030 has disbursed or secured over $1.8 million in sub-grants to our regional and national partners. Leveraging the global reach of our partnership, we also amplify the work of our national partners and ensure our data and evidence gets used to elevate gender equality to the top of policymakers' agendas.
Data-for-Advocacy Training
Our 'data-for-advocacy' training improves data literacy skills and strengthens advocates' understanding of how to interpret, package and present critical data and evidence on a range of issues affecting girls and women to decision makers. To date, we have trained nearly 350 grassroots gender equality advocates across our six pilot countries, namely El Salvador, Colombia, Senegal, Kenya, India and Indonesia. The training curriculum is being adapted for different audiences and issues, and being expanded to reach more advocates.
National Partner Support
EM2030 further supports our national partners in El Salvador, Colombia, Senegal, Kenya, Tanzania, India and Indonesia, and their networks to better influence decision makers to ensure the right laws, policies and budget allocations are put in place to address key gender equality issues, such as sexual and reproductive health and rights, political and economic empowerment, education, and child marriage, amongst others.
Alongside our national partners, and through the network of our ten core partners, we work to build political will and influence the policy agendas and resource allocation of national governments in order to achieve the Sustainable Development Goals for girls and women.
Learn more about our National Influencing Partners.
---
Meet the Advocates
SAHAJ – India (partner since 2017)
The national factsheet on Bending the Curve towards Gender Equality was launched around HLPF 2020 in collaboration with ARROW. The factsheet data were used to support advocacy and messaging around India's voluntary national review and shared at a webinar organized by Sahaj as a part of the South-Asia evaluation forum.
Sahaj (with the EM2030 data team) has been involved in an intensive consultative process with the Niti Ayog (key institution responsible for SDG monitoring) on the development of the Government of India Gender Index that is scheduled for a March 2021 release.
Sahaj is simultaneously working on creating state (sub-national) level scorecards on SDG progress to support future advocacy efforts with key targeted policy makers.
The government of India is deliberating changing the legal age of marriage for girls (from 18 to 21), Sahaj is a part of the national team and is leading state level efforts with CSOs against proposed legal reform and is advocating for increased investment in improving girls' education and health outcomes.
KAPAL Perempuan – Indonesia (partner since 2017)
After the marriage law was changed in 2019, KAPAL is focusing on disseminating and pushing for the enforcement of the revised law, and training gender advocates to denounce and track CEFM cases. Learn more in this Q&A.
Alongside the EM2030 Secretariat, they presented the SDG Index and its findings on SDG 5 about Indonesia and the Asia-Pacific region in a high-level event with government officials to commemorate the anniversary of the revised law.
KAPAL is also advocating towards the government to add a gender lens to their response to Covid-19, and they are conducting trainings with gender advocates on the effects of the pandemic on women's and girls' education and the rise in CEFM cases.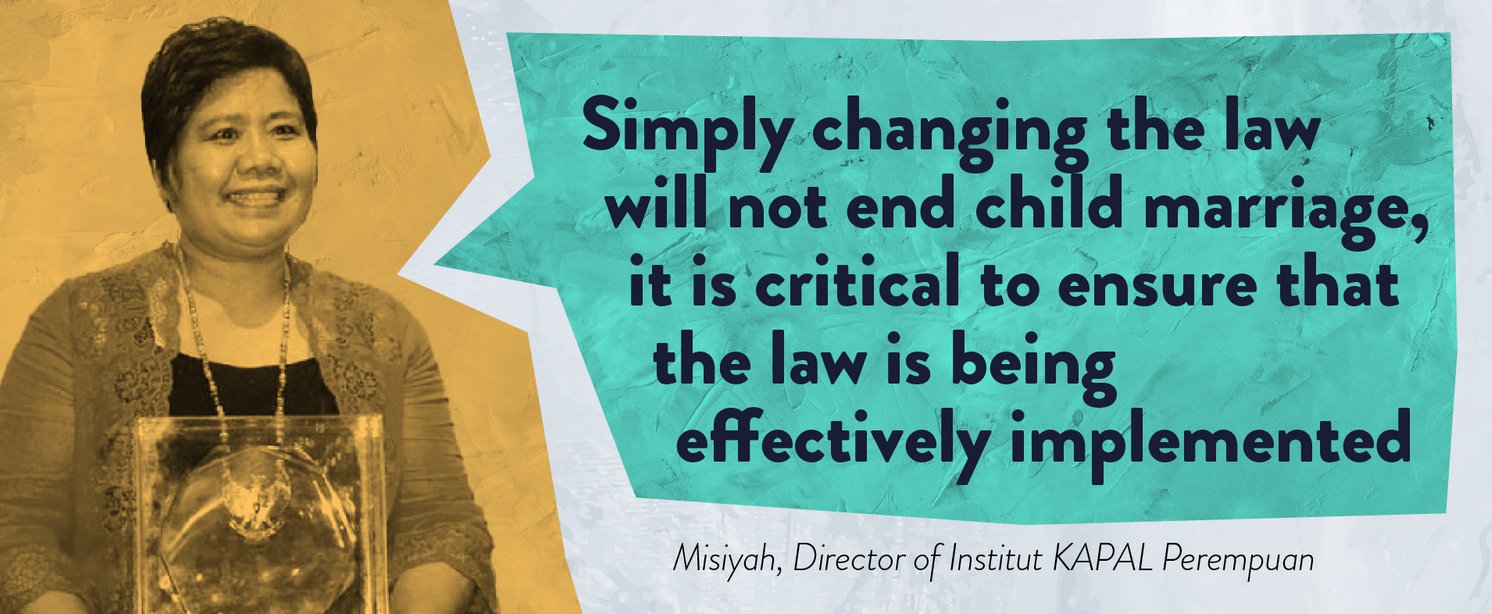 GROOTS – Kenya (partner since 2017)
Over the past year (2020), GROOTS has made great strides in strengthening its partnership and collaboration with the Kenyan National Bureau of statistics (KNBS).
GROOTS and KNBS have worked together to disseminate national data from the Kenyan 2019 National Census helping to disaggregate the data by county and an online on the 'Gender Data Dashboard.'
To support advocates' and county-level officials' engagement with the Dashboard, they have also created gender data booklets for specific counties that can be used for development planning.
They been advocating the use of the available data on women's representation in local land committees. This has succeeded in getting more women to register to group ranches and the election of women into land registries. This exercise has enabled more women to acquire their own land title deeds.
As a result of their growing reputation on the collection and use of gender data, GROOTS was invited to become actively involved in a National Citizen-Generated Data Charter.
GROOTS has played a key role in the development of national guidelines on how alternative or community-generated data can be collected, validated and utilized on invitation from the Kenya National Bureau of Statistics (KNBS)
Ruta Pacífica de las Mujeres – Colombia (partner since 2017)
In 2020, la Ruta Pacífica de las Mujeres produced a national report with data from the SDG Gender Index and an infographic of the implementation of the Peace Accord in Colombia which has served as a roadmap to achieve the SDGs.
The infographic was launched in August with the participation of representatives from the Presidential Office for Stabilization and Consolidation.
La Ruta Pacífica de las Mujeres aims to continue to influence the implementation of the Peace Accord from a women's rights perspective, as well as the women-led initiatives in the local development plans.
Réseau Siggil Jigeen (RSJ) – Senegal (partner since January 2020)
In close collaboration with EM2030, RSJ launched a project focused on leveraging the momentum of Beijing+25 to drive action on family planning. This draws upon their expertise in adolescent sexual and reproductive health and girls' education, as well as their previous work undertaking budget advocacy.
Currently, RSJ are working to utilise national-level data from EM2030's Bending the Curve research to develop a factsheet that looks at the links between two indicators on access to contraception and girls' secondary education.
The factsheet will look at the possible impact of COVID-19 on the projections from the Bending the Curve data and possible links to rising rates of adolescent pregnancy seen in Senegal in 2020.
It will also draw upon data from the 2019 SDG Gender Index and complementary national and local-level data and evidence.
RSJ plans to use the factsheet to support their existing advocacy with government and the private sector to mobilise resources for family planning, as well as in their engagements with Beijing+25 key moments in 2021 and beyond.
Asociación Generando Equidad, Liderazgo y Oportunidades (ASOGEN)
ASOGEN is an association of women in Guatemala recognised for their work around the prevention of and attention to violence against women.
In the joint project with EM2030, ASOGEN will focus on training local gender advocates on data use to strengthen their work, including the use of the SDG Gender Index. This draws upon their expertise in generating and facilitating spaces in Guatemala for citizen participation, leadership, political analysis, and defence and empowerment of women's rights.
They have extensive experience in offering comprehensive accompaniment to women and girl survivors of violence, which is a fundamental part of their strategy to empower women as a sustainable measure to eradicate violence.
Through the partnership with EM2030, ASOGEN aims to be recognised nationally for its ability to use evidence and gender data to obtain more results in their advocacy work aimed at influencing public policies and legal frameworks around the prevention and attention of gender-based violence.